So I'm moving to a different state and have decided to part with of some of the snk doujinshi I've collected over the years. I really want to avoid listing them on eBay and hope to sell them here or tumblr if possible. I take good care of my stuff, so they are all in mint condition.
The prices below do not include shipping costs. I originally paid a lot more for these books, but I am open to negotiating prices if you plan to buy more than four.
I've included links to the sample images provided on the artists's gallery. Just scroll down and click on the image to view the sample pages.
Please note that all doujinshi are in Japanese and feature Levi/Eren
.
Tumblr Listing:
http://habberdasher.tumblr.com/post/146192758780/shingeki-no-kyojin-attack-on-titan-doujinshi
Shingeki no Kyojin / Attack on Titan Doujinshi
Pairing: Levi x Eren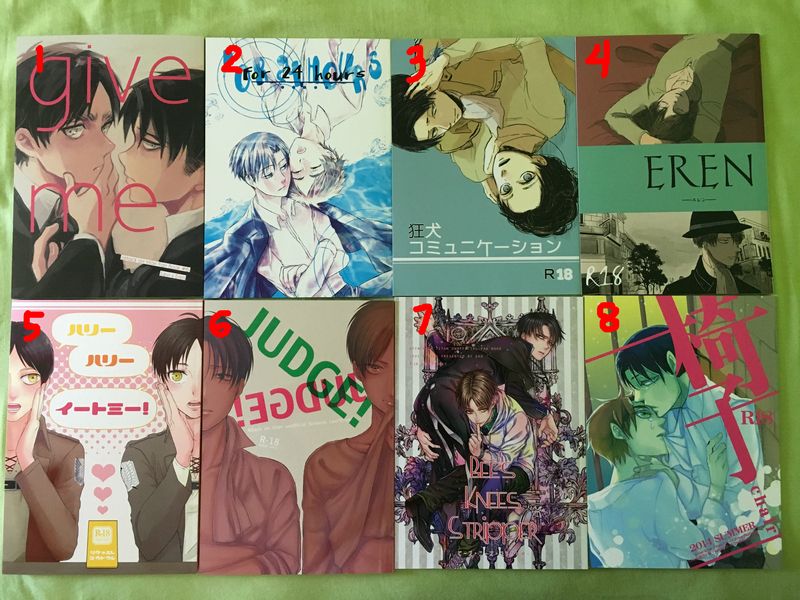 1. Give Me | 36 pg
Author: Zan Nenko/TOYPANO
Price: $8
Sample
2. 24 Hours | 36 pg
Author:
Pokabata
Price: $10
Sample
3. 狂犬コミュニケーション | 26 pg |
(R-18)
Author: Chocolatfille
Price: $6
Sample
4. Eren | 44 pages |
(R-18)
Author: Chocolatfille
Price: $10
Note: AU story about prostitute!Eren and Levi as one of his clients
Sample
5. ハリーハリーイートミー! | 44 pg |
(R-18)
Author: Iyou & Sorbit
Price: $8
Note: Contains two stories from different artists. Pretty much PWP.
sample
6. JUDGE! | 32 pg |
(R-18)
Author: Pde / pixiv
Price: $10
Note: Hints of switching, but the endgame is Rivaere
Sample
7. Bee's Knees Stripper | 40 pgs
(R-18)
Author: End
Price: $12
Note: Contains a little shota
Sample
8. 椅子 | 44 pg |
(R-18)
Author: Hz & FullpantsFull
Price: $8
Note: Contains two stories from two collaborating artists
Sample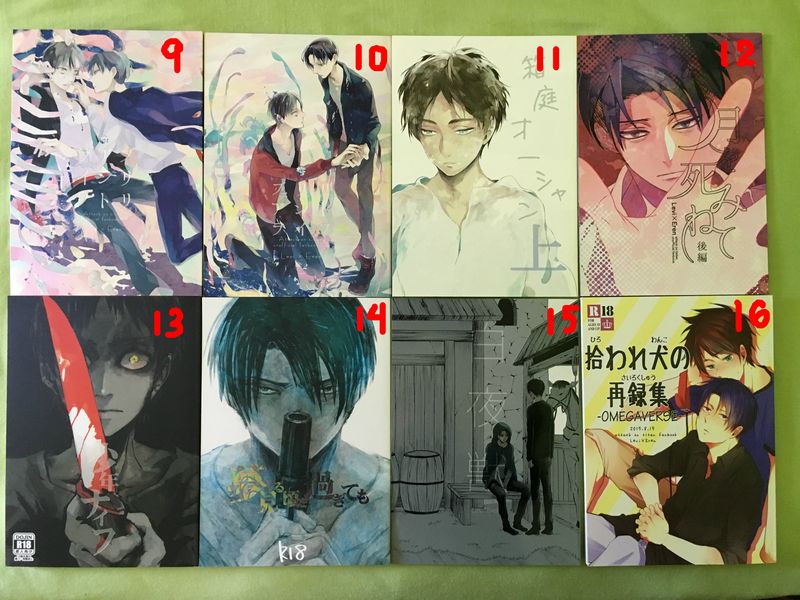 9
&
10. Brilliant Life 商品名ブリリアントライフ Parts 1 & 2 | 28 pg & 40 pg
Author: dim
Price: $20
Note: Reincarnation AU
Note: I am selling Parts 1 & 2 as a set, so you will be getting two books for the price listed
Sample
1
2
3
4
5
6
11. Miature Garden Ocean Part 1 | 18 pages
Author: Bodatto
Price: $6
Sample
12. 月をみて死ね後編 | 52 pg
Author: Sabicola
Price: $10
Note: Reincarnation AU
Sample
13. Shounen Knife | 44 pg |
(R-18)
Author: Ahiru/Senkan AA
Price: $6
Sample
14. A Time to Dream is Gone | 50 pg |
(R-18)
Author: Ahiru/Senkan AA
Price: $6
Sample
15. 白夜獣 | 22 pg
Author: Yukimichi
Price: $6
Sample
- the 2nd story in this anthology
16. 拾われ犬の再録集: Omegaverse! Collection | 102 pg |
(R-18)
Author: つむぎ
Price: $13
Note: This is a large Omegaverse omnibus that compiles a previous two part doujinshi into one book
Sample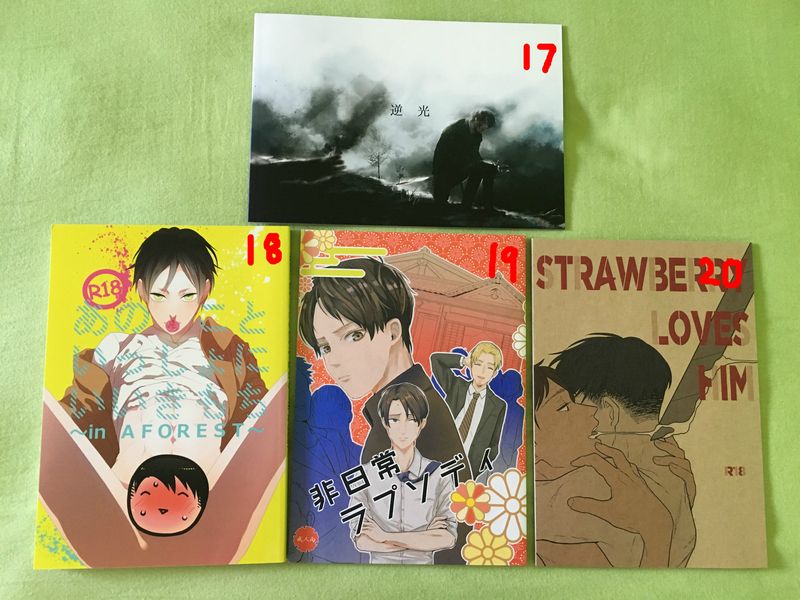 17. 1の丈 | 20 pg
Author: e-ko
Price: $6
Note: Basically a small gorgeous artbook of e-ko's work
Sample
18. In a Forest |
(R-18)
Author: Various: Sabicola, Deep Blue, Trachomatis
Price $4
Note: Contains both doujinshi and fic by various artists.
Sample:
1
2
3
4
5
19. 非日常ラプソディ | 40 pg |
(R-18)
Author: Taida Racoon
Price: $10
Sample
20. Strawberry Loves Him | 26 pg |
(R-18)
Author: Taida Racoon
Price: $6
Sample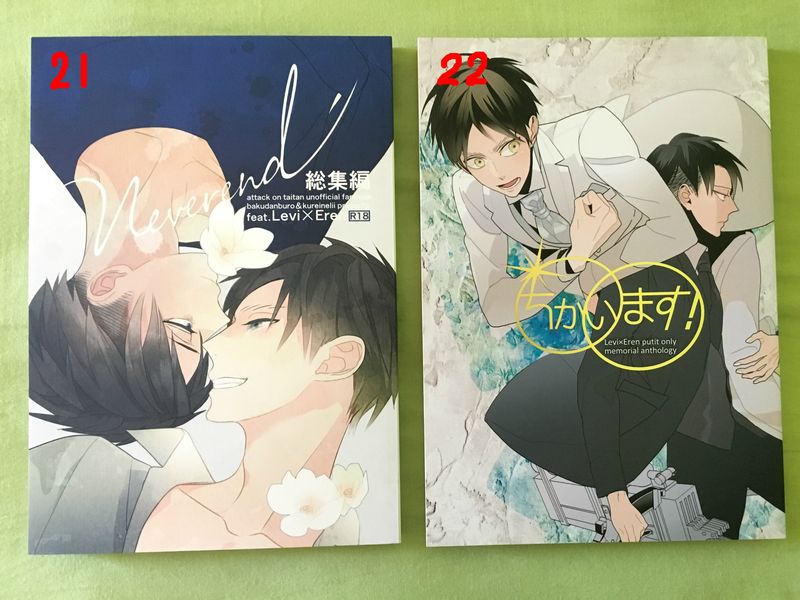 21. Neverend Omnibus Collection | 176 pg |
(R-18)
Author: Massao & Yuzu
Price: $17
Note: Reincarnation AU. This large book contains all 4 parts + epilogue stories from the Neverend!verse.
Sample
1
2
3
4
5
6
7
8
9
10
22. Levi/Eren Anthology | 154 pg
Author: Compilation of works from various artists
Price: $12
Note: A big anthology of many stories from various Levi/Eren artists in the fandom
Sample
1
2
3
4
5
6
7
8
Payment:
I accept paypal and will ship internationally depending on destination and whether or not it allows tracking.
Paypal fees are 2.9% + $0.30 of the transaction if you pay with credit card, so that will factor into the total cost. However, if you would like to avoid those fees, you could send the money from your paypal account/bank account to my paypal account (select the personal tab when transferring funds) - which should be free. International buyers are responsible for also paying the exchange rate fee.
Total cost
= Cost of doujinshi + shipping + paypal fees (if paid with credit card) + paypal exchange rate fee (if buyer is from outside the U.S.)
I will ship the items once payment is received and send you a tracking number.
Shipping:
I will be shipping from the United States via USPS, which should keep domestic delivery costs reasonable and shouldn't be any more than $3-4. I will also calculate shipping costs through USPS and send you the quote for your order. Tracking will be included in the shipping fee.
For international buyers, shipping costs may be higher depending on where you live. I cannot guarantee a fast delivery time, given that the customs and post schedule vary from country to country.
Understand that I am not responsible for the item once it leaves the post office.
Restriction:
Doujinshi marked as (R-18) contains explicit sexual content, so I expect you to be at least 17 years of age before purchasing said items. Of course, this is all based on an honor system, and I'll have no way of knowing - but let's all try to be good about it here.
Feedback:
You can access my feedback page
here
(though I've only started selling books again recently, so most reviews are older than a year).
Ordering:
Please include the following in your request:
-name
-the item(s) you're ordering, include list number
-the method of payment (credit card of paypal transfer)
-zip code, or country you would like the item(s) delivered to
I'll provide you an estimate on shipping costs and calculate the total amount based on your request. I allow holds on items up to one day (24 hours) of the order confirmation. If no payment is received by then, the doujinshi will go back on the listing.
Contact
:
If you're interested in any of these, please PM me or email me at owlposte@gmail.com for a quicker response. Also, feel free to ask for more sample photos of the books.
Current Mood:
chipper